How to start a blog – Hello dUSer, you must have been thinking about getting your own blog. That's why you're here. But you don't know where to start. I've made this guide exactly for that reason.
I suggest that you bookmark (CTRL + D) this guide, because it has more than 8000 words in it. So you can always get back when you need it.
What you'll learn in this guide:
How much will this guide cost you? You don't need to pay me a single dime. But you need to invest some money into your blog and your time to read this guide. That's why this guide isn't free.
Even though it won't cost you arm and leg, I want you to know that there are a lot of work and time put into this guide. I have invested weeks in preparing it. It's also based on my almost 2 years of experience.
Is there anyone you know that may benefit from this guide? Please share it to FB or G+, or retweet it. I thank you.
Chapter #1
Introduction
Here, we'll discuss 9 fundamental things to give you a sense of direction:
1. What is a blog?
The word "blog" comes from the word weblog. It means online journal.
Today, a blog is more than just a note put online. People use it for various purposes, such as:
Showcasing your works, for example: comic strips, DIY, food recipes
Teaching people.
Making money.
etc.
2. Why do you want to blog?
Find your strong reason(s) – If you want to blog for money, that's fine. Me too. But I'm afraid that motivation won't last and you'll quit in the middle of your journey.
Here's why.
Everyone has to go through a learning curve(s). At this stage, the result of your efforts and the time you spend won't be satisfying. At some point, you'll probably think of giving up every week, if not every day.
There are times I felt burn out, helpless and I wanted to throw the towel.
When a person in a lot of pain, he will ask himself, is this worth fighting for. If he can't find a good enough reason to continue, he'll quit.
Blogging can sometimes like walking in a dark tunnel not knowingly where's the exit. You don't know:
Will the labor of your work be fruitful?
If it will, when?
Will it be sustainable and give you the lifestyle you want?
There's no certainty and that what kills most people.
It may be fun at the beginning. But walking in uncertainty for a long time could drain your emotion.
Why I stick
In my past life, I quit a lot of things. Because it's hard. There was a delusional voice saying, if you do something else it will be easier.
No, it's not.
Everything that's good is hard to achieve.
So I thought, rather than keep changing my course and never arrive anywhere, I want to figure this thing out. And I have passion in writing and online world.
Now, ask yourself, is blogging your passion or do you have a big enough reason to go through all the pain? If the answer is yes. Great. If not, find something else. This is not for you. Unless you want to give it a try and see whether this is your thing.
Wait, isn't blogging suppose to be fun? Of course, but sometimes it's not. There's always a rough side of everything.
It's not fun when you hit the publish button and all you hear is the sound of cricket. No one cares to give any respond, nobody shares your content, etc.
It's not fun looking at the traffic that won't budge month after month.
Why am I sound so gloomy at the beginning? Because usually people start blogging with the wrong expectation, like I'm going to be rich in 3 months. And that crushes them later in the journey.
It's better to learn the reality now, than later.

3. What do you want to say to the world?
Before you answer that question, you need to answer this question:
What do the people want?
A wise man says, if you want to start something, the wiser thing to do is to find out, what do the people want. It's better than spending tons of money, time and efforts to create a blog, just to find out latter, nobody wants it.
What do people on the internet generally want? There are 3 categories:
Solution.
Entertainment.
Information/News.
You choose one of the three, and then you determine what do you want to say, and then built everything around it with your readers as the north star. For example:
You're a cancer survival. You think you have a great story. In your mind, you need to think how your story could impact your readers life; what lessons can they take home; how your knowledge could help them in any way, etc.
Remember, you may own the blog, but it's never about you. It's all about THEM. (Except if you're a celebrity)
Do you notice how I use the word "you" a lot more than the word "I"? Because you're the focus of this guide.
Finidng what you want to write about and giving it a focus, is called finding your niche
6 questions to help you finding your niche:
Which group do you usually hangout with?
For example if you often hang out with moms, they could be your source of inspiration. Because you are familiar with their problems, needs, stories, pains, etc .
What is your passion?
It's something you can talk or do for hours without being tired. Because it's where you spend most of your time, probably you have a lot interesting to say or to teach.
What is your interest?
This could be something around your daily life or work life.
What is your expertise?
This is the skill set you own, that you've build up until this moment. If you want you can also create a blog about a new expertise you want to acquire.
What is your dream?
Your dream can also be the source of your inspiration, for example if you want to be a journalist, you can start writing about politic, sport, or any industry related news.
Problogger.com is founded by Darren Rowse. He dreamed some day he can become a professional blogger and make a living out of it. The blog was meant to record his journey.
What is your experience?
Kriss Carr is a lady who has been living with cancer for more than a decade. She created a krisscar.com blog based on her experiences to inspire other people who are like her. She shares also her secret on healthy living.
What should you do, if you don't know what to write?
Be experimental. Write anything you want until you find what suits you.
For example at the beginning I wrote a lot of stuff about self-development and a bunch of other stuff. But at the end I realized, I don't have enough credibility for people to listen to me, and I just repeated other people teachings. Basically, my words are empty.
So I decided to write about WordPress and codes. The problem is I don't have a good memory. A lot of time people asked about codes that I've already forgotten and I lost track what the code supposes to do. So, today I write more on blogging and marketing.
But if I may give you a suggestion, in the case you can't find one topic that you can focus on, try to focus on a demographic, for example on student. You can write a hip of stuffs related to student life, such as love, where to find cheap food, how deal with roommates, etc.
This is much better, than writing about many things that doesn't have any connection. Because your readers could push back your content or become turned off.

4. Whom do you want to talk to?
This is also another important thing to think about and answer.
Get the right people – If you want certain people coming to your door, then you need to create contents that are interesting for them.
For example, this blog talks a lot about blogging. It will attract bloggers, but it won't attract parents that have difficulties in raising adopted children. Because I don't write any content related to that kind of stuff.
It is tempting to want anyone coming to your blog. The problem is you won't be able to resonate with all of them.
I've subscribed to some of the A-list blogger's newsletter. Even when they talk the things in their niche. Sometimes there are topics that don't resonate with me, so I don't open or read them. Just imagine if they were talking about different random stuff that I don't have any interest at all.
In my opinion, it's better to speak to 10 people that care and maybe they'll spread your words, than to 100 people that ignore and forget you. Of course, you won't go anywhere if you have only 10 people as fans. You want hundred of thousands of them.
Language – Knowing to whom you want to talk to, will help you to understand the "language" of your target audience. By language I mean the words they usually use. That way they can relate with you more.
For this purpose, you might want to create some personas, 3-5 persons. Give them some description such as their age, gender, jobs, daily routine, habits, etc. This should portray your ideal readers.
Better yet, if you can talk to real people, and ask for their challenges, fears, dreams, and all kind of information to get to know them.
It will help you to craft your content better.
Promoting your blog – Having a great content is a number one job, the second one is to tell people about it. By having a clear target audience, you'll be able to figure out where these people hang out and talk to them and make them care about your blog.

5. What is your position?
You need to get your position right with your online presence.
Are you an expert or a traveler?
An expert means the knowledge and experience gap between you and your audience is huge. People will tune in, because you know a lot what other people don't.
A traveler means you embark in a journey, let's say you are learning about social media marketing, then you share your story and experiences to your readers. The gap isn't as huge as an expert. But you're leading. So there are something that people still can take a value from.
If you set the wrong foot, you won't be able to meet your audience expectation.
That means, don't appear as an online social media guru if you're still a beginner on that field.

6. How can you be different?
This is another important question you have to think about and answer.
Whatever topic you want to talk about. There's a big chance somebody else is doing it right now.
You need to differentiate yourself from the rest.
You can do this by visiting all the sites similar to you, and take notes what the most common things they do and do it differently.
This could include all aspects in their blogging, from the words they use, blog design, to how they treat their readers.
Remember, average gets forgotten, but remarkable is remembered and get spread.

7. How to start a blog?
Now, let's learn some technical stuff.
To blog you need:
A blog platform – a software for blogging to manage everything.
A web hosting – to host your blog platform.
A domain name – the "address" of your blog, for example: www.yourblog.com.
Even though in this guide I teach you how to blog using a paid service, but let me tell you, that you can also blog for free.
I will explain the advantages and disadvantages, then think and choose which one is the best for you.
7.1 Blogging for free
Obviously, blogging cost you money, for example: internet cost, electricity cost, etc. When people say blogging for free, it means:
You don't have to pay for the hosting
You don't need to buy a domain name
All you need to do is sign up, make some small settings and you are good to go.
There are some available options out there. Some of the most popular:
Blogger.com owned by Google.
WordPress.com owned by Automaticc.
Thumblr.com owned by Yahoo.
The disadvantages of using free services:
Low level of customization.
Your domain name includes the name of your service provider, such as: yourblog.wordpress.com, yourblog.blogspot.com, yourblog.thumblr.com.
People know that you're using a free service.
There is limitation in monetizing your own blog.
They have policies that could go against you, for example: If you violate Google policies, they could delete your blog and you can't retrieve your posts ever again.
Sometimes they show their own ads on your post, for example: wordpress.com.
You can't add plugins to get extra functionalities.
The advantages:
It's free
It's fast
You don't need to maintain the nuts and bolts and security of your platform.
Just setup and write.
7.2 Hosting your own blog
You see, using the free services, it's like building your home on someone else's property. If the landowner decides to change his policies, you are definitely will be affected. That's why people usually buy their own domain name and hosting.
The disadvantages of hosting your own blog:
You need to learn technical stuff to set up and to maintain your blog.
You need to learn about security.
You have to pick the right hosting company.
It cost you some money.
The advantages:
Great level of customization.
You can use plugins to make your blog better.
You have your own personalized domain name.
It builds better credibility.
9. Which blog platform should you use?
If you use the free services you don't have to think much about this. Just choose the free service your want to use, create an account, and you're ready to go.
But if you choose the nonfree, I recommend WordPress (WP).
WP is free, user friendly, very up to date, and it has large communities of users and developers. It is widely used, even by the big companies, such as Forbes, New York Times, Ebay, Mashable, etc.
It is also SEO Friendly.
Chapter #2
How to Find a Great Web Host
In this chapter you'll learn 4 things:
This chapter is quite long and it has some technical stuff. You have two options:
Read it through, and use it as a guidance to find your own web host.
Skip it and jump to the web host of my recommendation. Click here.
I have tested 4 web host companies. 3 Indonesian companies and 1 American company. Not all web hosts are good. Some are pretty bad and make you want to scream.
The best from all is the American company where I'm in now. 2 of the Indonesia companies are pretty bad. Only 1 that's ok.
There are 2 traits of a good web host, they have:
Strong and fast servers.
An excellent customer service.
Avoid this mistake: Searching a web hosting with the cheapest price. Price is an important factor for a consideration, but you need to consider also the service.

1. How a bad web host feels like
It's frustrating.
1.1 My site went slow frequently
In two of my previous web host, my blog often went very slow all of sudden, if not down completely.
The common explanation I received from the customer service:
I used too many plugins
My website was too heavy
Back then, I didn't know any better. Today I know the problem isn't with my site, their server was too weak to handle the load. I mean like, zero traffic and my site went down. Really?
I don't know was it the hardware problem or they just packed too many users in one server.
One thing for sure, 2 reasons why you don't want a slow site:
Google prefers a fast site than a slow one. This affects your ranking on Google search engine.
Your visitors won't wait and leave.
1.2. I received bad customer service
A web host usually uses 2 kinds of support system:
Ticket system – You send a complaint through the client area and wait for the reply from the support team.
Live chat – You speak live with the support through their chat application.
Let me tell you how bad the service of my first web host.
It used a ticket system and it takes 1 day for each reply. Imagine if you need to talk back and forth. One simple problem takes days to be solved. Compared to my current hosting, it takes only 2- 5 minutes to get an answer.
On my third web host, it uses a live chat – What could go wrong? Let me tell you:
The person put on the live chat didn't understand anything about the server. If I asked any technical question, the person seemed clueless, he asked me to wait. So, I waited… for almost 30 minutes. Then, he cut the chat off.
He also cut the chat off, when there's a work shift change, even though the customer still in trouble.
He also cut the chat off, because of other different reasons.
The customer support also doesn't like to explain things and prefer to send you to a page to search for the answer yourself, which often no answer to be found.
There was one problem that really ticked me off. They suspended my blog without any notification. It means, if I didn't check my blog for a month, it will be down for a month.
When I asked why they didn't email me. The answer was so ridiculous. They said because the suspension was done automatically. Hello? Can't they did the same way with the email?
Believe me, you don't want to go through the same thing. Bad web hosts don't have respect for their customers.

2. How to find and test a web host?
It's impossible to know the quality of a web host for certain, without trying it. But to test means you must commit yourself to a contract. Most of them requires a year term contract, if not more.
Under a contract if you decide to bail out, no refund, except if there's a money back guarantee. Some companies don't give you one. Some may give you a 30 days, but bad stuff usually happen after a couple of months of using it.
The general things you want to search in a hosting company:
A fast server
Many people think to have a fast blog their blog has to be lightweight. That's not entirely true, the server has to be fast too.
A good customer service
You want support that respects you, knowledgeable, and fast.
If a company provide a live chat. You can feel first hand of their service from there. Here are the 6 signs of a good live chat service:
1. Fast response
You can get connected to a representative in a zippy and they can answer your questions fast.
2. The representative is knowledgeable
He can explain about the products, the services, and the company well.
3. Never cut off a conversation
There is live chat support that loves to cut you off of a conversation. Mostly because they can't answer a question, which they should have known, for example: Since when the company has been around, or some technical questions.
4. Has a human touch
They welcome you with a warm greeting. Some hosting companies prefer to welcome you with a cold automatic script. To me, that's just lazy.
5. You can ask anything comfortably
A good live chat service will let you ask them anything, no matter how stupid your questions may sound.
Sometimes I do ask purposely stupid questions. Will they still respect me? Will they try to help me?
6. Has the willingness to serve their customers
There are representatives that even when you ask a simple question, they just send you to a page where you have to find the answer on your own, instead of them serving you with the answer or at least pointing you to the answer on that page specifically.
A Checklist to qualify a web host
Here are 8 questions to qualify your web host:
1. Does the company provide a 24/7 support?
The problem could happen any time. It would be convenient if the support stand by 24/7 to help you.
Furthermore if they use a ticket system, how fast is the response? A good one is under 10 minutes and in my current hosting usually only takes less than 2 minutes.
2. Does it use SSD Storage?
SSD Storage provides faster performance than ordinary Storage.
If you want to know the difference between both of them, let's take a look this video from PCMag:
Some web hosts use full SSD storage, some others will say a certain part of their servers using it. Get the full one.
3. Does it support Browser Caching?
When a page is loaded, there are files sent from a server to a browser. It takes time.
For efficiency, certain files don't need to be sent over and over again.
So it would be better if the browser cache/keep certain files. The next time the browser load the same page, fewer files will be sent, thus the load speed will be faster.
But to do so the server needs to support this feature.
4. Does it support Keep-Alive?
When files are transferred from a server to a browser, a session opens and closes for each file. Opening and closing takes time.
For efficiency, we can keep one session open for several files transfer. This feature called keep alive.
But in order to use it, the server also has to support this method.
5. Does it use CloudLinux?
CloudLinux provides isolation and resource monitoring. Before CloudLinux, your neighbor can bring down the entire server with him, due to resources over-usage. The admin server has to locate the culprit and suspend whatever he/his site is doing.
Now, with CloudLinux everyone has its own resource limit.
6. Does it have Google Page Speed Module in their server?
This feature once it's activated your site performance will increase quite significantly.
Your Google Pages Speed Test will show a better score significantly. The setup is so easy and beginners friendly.
7. Does the company integrate CDN service?
CDN allows your blog content to be distributed among all the servers owned by a CDN company across the globe.
The purpose is to serve your audience from the closest server. This will reduce the page load time. Because the required distance that the data need to travel is shorter. Usually a web host provides the free service from the third party, for example, CloudFlare.
8. Other advantages
There might be other technology embedded in a web server, such as Facebook Caching technology, Litespeed, etc.
The more a web host fulfills these 8 items the better.

3. How to choose a hosting plan
A web host usually has 3 types of server:
Shared Server
This is like an apartment where one building is shared by many tenants. If you're just getting started, use this.
Virtual Private Server (VPS)
This is like a condominium. You still share one building but with fewer tenants. You will get more resources. This is to handle more traffic simultaneously
Dedicated Server
This is like owning a house. One building only for yourself.
They offer you different plans for each type of server. Mainly differentiate by the storage capacity. If you don't understand yet the terms stated on the plan, just look at the storage capacity.
At the beginning, shared server should be enough because your traffic is not much.

4. My web host recommendation
I recommend FastComet. This the web host I myself am using and I've tested it and recommend it to all my friends.
The above link is an affiliate link. That means if you decide to use their service I get a commission and I thank you for your support.
Here's why I recommend FastComet:
FastComet provides an excellent customer service
The ticket system support response is fast. Most of my problems are answered and solved within minutes.
I'm experiencing a significant page load speed difference
They have several caching technology to make things faster.
Their site immigration service is very convenient
Site immigration is a long and painful process. Especially if you have a large site. In FastComet, I only need to submit an immigration request ticket and they do it for me within a couple hours.
The sales representatives are nice
Especially if you talk to Joanne Moore or Olivia Smith in the live chat, both of them will serve you well.
FastComet offers a free domain for life as long as you sign up with them.
Learn how to get a web hosting for $2.95/mo click here and ask the sales on live chat.
But if you don't want to use it, it's ok. Let me give you 6 web hosts used by other bloggers. You need to check them by yourself:
Chapter #3
Buy a Domain Name
In this chapter, I want to give you a guidance on picking a domain name and how to get one.
In this chapter you'll learn:
1. What is a domain name?
A domain name is your blog's address. When someone types it in the browser's URL address bar, they will see your blog.
Every domain name has an ending. It's called extension. The most popular one is the .com (dot com). There are other extensions available you can choose, for example: .org, .biz, .net, etc. Basically they are all the same. But some are reserved for different purposes.
When you buy a domain, you are buying a Top Level Domain (TLD). It's the highest level of hierarchy in the domain name system.
There are special TLDs for certain countries. They're called ccTLD or Country Code Top Level Domain. If you use it, the search engines may not show your site to the people searching in different countries.
Examples of ccTLDs:
http://www.example.id – Indonesia
http://www.example.fr – France
http://www.example.us – United States
etc.
So be careful not to pick the wrong one.
Some domain extensions are reserved for certain organization, for example:
.edu for universities, such as: www.havard.edu
.gov for government organizations, such as: www.healthcare.gov
etc.
You can't buy those extensions, unless you can meet the requirements.
The place you buy a domain name is called a registrar. A registrar can be your web host company.

2. How to choose a domain name
Basically, you have the freedom to choose whatever name. Here are some domain name ideas you can use as a guide:
Use your own name
For example: www.ashley.com.
Due to many anonymity out there, using your own name could give some credibility. But later on, it may a bit hard to detach you from the brand.
Use a more brandable name,
For example: www.zynga.com, www.facebook.com.
The name itself doesn't have any meaning. But they are memorable.
Use a keyword(s)
For example: www.startblog.com, www.acne-solution.com.
This method involves keyword research. It means finding the words that people often search in search engine. The aim is to gain some advantage on the Search Engine Optimization.
3. How to get a domain name?
You can buy a domain name at the same time you purchase a hosting.
Buying, in this case, doesn't mean you own the domain name forever. You need to renew it every year or you can pay it straight for a few years ahead.
The process of buying a domain is relatively easy. Just follow the instructions given by your hosting provider. For example, the followings are the steps how to buy a hosting + a domain at FastComet.
1. Pick your hosting plan.
2. Choose your domain.
3. Fill the form to create your account and pay the bill.
4. You're all set.
It's also possible to buy a domain name and hosting, each from different places. Usually, people do this when they can get the domain somewhere else cheaper. It requires small settings afterward.

4. How much does a domain cost?
If you sign up with FastComet you can get it for free.
But let's talk the cost in general. Some domain extensions are more expensive than others. It depends on what extension and from which registrar you buy it. A .com may cost you up to $14/year. A domain name for Nigeria – .ng may cost up to $100/year. The price could change on the following years.
You can also buy a domain from someone who already buy a domain. Usually, it will cost you more.
There are 3 reasons people buy a domain from someone else:
They like the name
Domain age – Google trust more sites that have been around for a long time. As the result, they send much better traffic to you.
Backlinks – if a domain has accumulated backlinks, that's an asset. Because backlinks give a lot of SEO advantage.
Chapter #4
How to Install WordPress under 10 Minutes
You have bought a domain and a hosting, now you are wondering how to install the WordPress. I'll  show you how and some security measures you need to take.
1. Access the cPanel
After you've finished your domain and hosting purchasing, you'll get an email. In it there are a cPanel username and a password.
A cPanel is a web hosting control panel for managing many things. To access it, type:
www.yourdomainname.com/cpanel
in the address bar and press enter.
You'll be brought to the cPanel login page. Enter your cPanel username and password.
2. Install WordPress
The interface of the cPanel could be different from one web host to another. It depends on what skin they apply.
In the cPanel search for "Softaculous" apps installer and click the result.
Next, hover your cursor on top of the WordPress logo and click the install button.
Welcome to the WordPress Setup page.
3. Follow these settings
Software Setup
Choose Protocol: http://
Choose Domain: (pick your domain name)
In Directory: (empty it)
Database Settings
Table Prefix: (Change it to another prefix name for security reason, ex: sio_)
Site Settings
Site Name: (Type your blog name)
Site Description: (Give a little description about your blog)
Admin Account
Admin Username: (Change it, don't use "admin" for security reason)
Admin Password: (Change it, make it strong)
Admin email: (input your email)
Choose Language
Select Language: (Choose your blog language)
Select Theme
(Pick your favorite or you can pick it later)
Last but not least hit the Install button
That's it. Wait until the installation process is finished.
After it's 100% completed, you access the WordPress dashboard. Type in the address URL:
www.yourdomain.com/wp-admin
Enter your username and password you've set in the installation process. If you enter correctly then you're in.
Chapter #5:
Create Your First Post
Congratulations, you've made it this far.
Let's make your first post.
In your WordPress dashboard click Posts > Add New.
Now you are on the Add New Post page.
All you have to do:
Write your Title
Make it catchy and interesting. Evoke curiosity. Usually, an interesting title leaves a question in the mind of the reader. For example: 7 Kitchen Secrets of the World Chefs (The question: What are they?)
For further reading I suggest you to read the eBook: Magnetic Headline from copyblogger
Write your content
Start write your interesting content. Tips: make your writing scannable by using headings, bullet list, bold, italic, underline.
Add new category
To organize your posts in categories. It will be also useful for creating a navigation menu.
Add new tag
A tag is like a label you want to put on your post. It's like a hashtag on social media threads.
Set featured image
You can add an image as your featured image for your post. Depending on your theme design, it will show normally on the post list.
Click the save draft button
To save your work before you publish it.
Click the preview button
To see how your post looks like on the front end.
Click the publish button
If you are ready hit the publish button. Congratulations, your have created your first post.
What are the different between a category and a tag?
Let's make it simple. A category helps categorize your post. A tag has a similar function, but it was made just to make your category list not too long. Just use it like a hashtag in social media.
Chapter #6
9 Sites to Download Stunning Free Images Legally
Images are very useful for a blog. They make your post look attractive, help to convey messages, etc. But at the same time they could give you troubles if you use it illegally.
For the solution, I will show you where you can get beautiful images for free and legal.
First, let me show you some bad experiences that a famous online marketer, Neil Patel ever had.
Ive been stuck in situations where writers used images that they weren't supposed to, and we published the content. We later got a legal letter from stock photography sites like Getty Images that not only demanded that we take down the image but pay them for the prior use of the image.

This has cost me thousands of dollars over the years, which is why I am very picky about what images can or cant be used.

Source: How KISSmetrics Grew to 793,858 Visitors a Month by Using One Simple Formula
The lesson to learn is don't use images carelessly. Many people use Google image search and take any looking good images they want. But that images could blow up in your face someday.
For that particular reason, many pro bloggers choose to buy images from companies to ensure their legal aspect.
If you are in limited budget and you don't want to spend that kind of money. There is another solution for you.
First, here what you should know, every image created will fall automatically under a copyrights protection. But there are people who just want to share their works without has to be bother with copyrights. So Creative Common is created.
Anyone can put their work under this type of licenses. You can learn more about this at http://creativecommons.org/
Creative common images are images that you can use safely. But still you need to pay attention on which license the images fall into. There are 6 types of creative common licenses.
There are also images that falls into a public domain or also known as Common Creative Zero. You don't need any permission or accreditation for those images. They can be used commercially too.
How to attribute a Creative Common Licensed image
You can learn how to do it from commons.wikimedia.org. Because they provide an easy way to do it. Long story short here's how:
"Peugeot Flux". Licensed under CC BY-SA 2.0 de via Wikimedia Commons
The photo title that links to the image source.
The name of the creator that links to his profile (if exist).
The licensed its fallen into that links to the corresponding common creative page as shown above.
The rest is optional.
I like good pictures, but I don't like to browse among hundreds to find one. That wastes a lot of time. So here are the sites that I find a no time waster. Granted, some of the site may have a mix of bad, medium and great images, but mostly you can find a good one relatively fast.
I use this site often. Pixabay redistributes images from all over the web. As to date, there are Over 430,000 free photos, vectors and art illustrations according to them.
All the images are claimed under a public domain license. If you use them you don't have to give any attribution to the author. Just grab it and use it. But there are still limitations. You can read them here.
The quality of the images is vary.
The categories:
Searchable: Yes
Attribution: No
License: Public domain / CC0
Satsuma-samurai-during-boshin-war-period" by Felice Beato – From the English Wikipedia. Origin source unknown. Licensed under Public Domain via Wikimedia Commons
Here you can find various kind of images under a vast categories, from old times to modern era photos in different image qualities.
Searchable: Yes
Attribution: Yes
License: Different types of Common Creative
There are tons of available images here. Most of the images are medium quality. But if you just want a pic that can convey a message, you will have more chance of finding it here.
You can use the images for commercial purpose without any attribution. But it does have a bit complicated terms of use, which you need to read the details.
The categories:
Searchable: Yes
Attribution: Yes and No
License: Read here
Get your hand on these professional high resolution photographs and do whatever you want with them. Most of the photos are about nature, buildings and humans.
Searchable: Yes
Attribution: No
License: Public Domain / CC0
Here you can find a small collection of  high res photographs. Most of them are about natures, architectures and objects.
Unfortunately the site won't be updated with more photos, because Nic, the person behind the works died on Nov 2013 at 26 years old.
If you want to do some search make sure to click the menu icon on the top left.
Searchable: Yes
Attribution: No
License: Public domain / CC0
Here you'll find a huge collection of photos made by many photographers around the world. Many of the photographs are gorgeous. But make sure to choose the right license when you search for them.
Giving attribution for the image could a bit of hassle. Because you need to do it on your own, unlike wikimedia, where you can copy paste it.
Searchable: Yes
Attribution: Yes
License: Different types of licenses
Gratisography has a small collection of high-res images you can use for free. Ryan McGuire embeds a sense of humor onto his photos. Even though I don't find they are particular funny, but they are interesting, and it makes his photos different.
The categories:
Animals
Nature
Objects
People
Urban
Whimsical
Searchable: Yes
Attribution: No
License: Public Domain / CC0
Daniel Nanescu, an Italian photographer offers a small number of stunning photos you can use for anything. Grab them now, before he changes his mind :)
The categories:
Searchable: Yes
Attribution: Not definedLicense: Free
This site provides professional high quality jumbo size images. These are the works of Victor Hanacek.
One feature I personally find interesting is the "Test Drive." It shows how you can implement an image. For you who don't understand design, this feature could give you some idea how to use the image beautifully.
Categories:
Abstract
Animals
Architecture
Business
Christmas
Fashion
Food
Nature
People
Roads
Snow & Winter
Sunlight
Technology
Things
Wedding
Searchable: Yes
Attribution: Yes, if you use it on your site, link the image to picjumbo.com.
License: Free
> Like this chapter? Click here to tweet it <
Chapter #7
Install a New WordPress Theme
CrossRoad – Responsive WordPress Magazine / Blog
. Licensed under CC BY 2.0 by Serge Kij
A theme influences the look and feel of your blog. It controls the layout, the color, the font, etc. If you want a different theme for your blog. I will show you the steps to install a new theme.
There are many WordPress theme available out there, free and paid. Some are good, some are bad. My advice to you is to find one that is mobile friendly. Mobile friendly means responsive and light weight.
A responsive theme means it can adjust its layout according to the sizes of mobile devices, like the picture above.
Mobile devices usually have less power than a PC. That's why a light weight theme will ensure a page can be opened fast.
Why mobile friendliness is important?
A long time ago people browse using PCs, today more people use mobile devices. For example, almost 50% of dapur-Uang.com visitors browse the site using a mobile device. If I don't adjust to the situation, I might lose them.
Furthermore, on April 21, 2015,  Google released an algorithm called Mobilegeddon. Google gives a mobile friendly site with better ranking.
But, before you start with your theme seeking frenzy, let me give you a bit of advice.
Later, probably you'll spend hours searching for the "right" theme for your blog. If I may suggest, don't spend too much time. The fact is even a really look bad blog can still have a great success, for example lindaikeji.blogspot.com.
Except if you're a business entity, then you might want to give more thought on the design of your blog. Because what your customers see will give them the impression on your business.
There are 3 methods to install a WordPress theme:
Install a theme from WordPress repository.
Upload your theme from your local computer to your WordPress.
Upload your theme from your local computer to your hosting file directory.
The first one is the easiest. You can choose which one suits you.
1. Install a theme from WordPress repository
Now, if you want to start install a theme, follow these steps:
1. Click menu Appearance > Themes > Add New
2. Wait until the Add Themes page appears. There you can choose the theme you like. The free WordPress theme nowadays is more awesome than many years ago.
3. If you already know the name of the theme, you can search it by filling the name in the search field as shown below. For example, I'm looking for "Virtue" theme. After the it shows up, hover your cursor onto it and click the install button.
4. After the installation is done, click Activate.

2. Upload your theme from your local computer to your WordPress
If you buy a premium theme. Usually you'll get a zip file. Here's how you install it.
Click Appearance > Themes > Add New
Click Upload Theme
Click Browse.
Search the .zip file > Click open.
Click Install Now.
Click Activate.
You've done.
3. Upload your theme from your local computer to your hosting file directory
Access your cPanel by typing in address bar:
www.yourdomain.com/cpanel
You will be brought to cPanel login page. Enter your username and password.
In cPanel, find File Manager, then click it.
A file manager directory selection window will pop up, click Document Root for: radio button > Go button.
In the File Manager click the directory wp-content > themes
Here you'll see the names of themes installed in your blog.
All you have to do is to click Upload.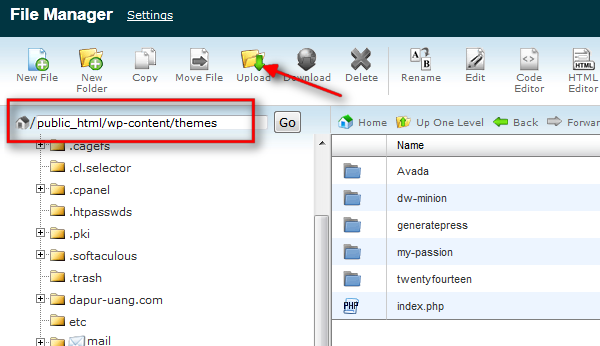 On Upload Files page, click the Browse button.
Click the zip file > Open
Wait until the upload process is done
Click the go back to link
Click the zip file > Extract.
Wait until the extraction process is finished, click the closed button.
Click reload to refresh.
You'll see the extracted theme directory. It means the theme is installed.
All you have to do now is back to WordPress, click Appearance > Themes
Hover your cursor on the theme, click the Activate button.
That's it you have master the third method.
How to delete a theme
The theme that you want to delete, has to be in a condition deactivated. Then click the theme, a window will pop, click delete.
Another way is just delete the folder from File Manager.
If you find this post can be useful to someon else, please share it. Or if you have any question, I would be happily to answer it.

Chapter #8
Install a WordPress Plugin
A plugin adds another functionalities to your blog, for example: you can add related posts under your content, add backup feature, etc.
In this tutorial I will show you how to install a plugin and some of them I've used over my blogging experience.
Here's how to install a plugin:
1. Click Plugins > Add New
2. Search for the plugin's name you are looking for, then click the Install Now button of the plugin you want to install.
3. Click Activate Plugin.
4. Some of the plugins may need additional configurations.
My recommended plugins
Clearly, depending on what type of blog you want to build will determine which plugins you'll choose.
Please note, WordPress plugins is made by different developers. Thus the quality of a plugin may vary from one and another.  Bad plugins can be a threat to your security or drag your performance. It depends how well the developers code their work.
It is advised by some experts to keep the number as low as possible. I have to admit, It's hard for me to keep it low. But you should try to stay below 20 plugins.
Below are some of the plugins I've used myself.
Polylang
If you want to create a multilingual blog, this is the best free plugin you can use.
MCE Table Button
This plugin will make your table creation easy in WordPress.
Ad Injection
I use Google AdSense for monetizing my blog. I find this plugin is very useful to insert ads into my post. It may look difficult at the first sight, but once you get a hang of it, it's easy.
Ad Insertion
This is the second Ads management, I've tried. I've been in a situation where I need two different ads serving two different post categories at the same position. This can't be done with Ad Injection.
Better WordPress Google XML Sitemaps
I prefer to use this plugin to submit sitemaps to Google Webmaster Tools, because it's easy to use.
Crayon Syntax Highlighter
If your blog related to coding, this one is for you. I have tested a couple of similar plugins, I find this one is very comfortable to use. A bit confusing at first, but it gives you much control.
Disqus Comment System
We all hate spam. On the internet there are bots that like to leave spam comment. Use Disqus you'll get zero of it. It may add a little page load time, but it spares you from checking each of them.
WP-reCAPTCHA
This plugin add a layer of security against spam bot. Consider to use it, especially if you let people to register, comment or fill forms. I've experienced bots registering fake accounts and filling my forms.
Grab & Save
You can grab images directly from the internet to your server. It saves time.
Jetpack by WordPress.com
Jetpack is a package of many plugins. Many of them we won't use it. One of the feature I used is the Photon. Basically it makes the process of loading images more efficient.
Organize Series
I write series of tutorials. This plugin help me to organize them.
W3 Total Cache
This plugin is a must, if you want to optimize you blog speed. Not easy to understand how to use it, but yet very powerful once you learn it.
WP Smush
This plugin will help you to optimize your image without loosing its quality. It helps to make your image KB size smaller. You may opt in to its commercial version to compress your images even more.
Force Regenerate Thumbnails
If previously you've uploaded images, then you change your WordPress image size settings. You have to regenerate all the images again. I prefer this plugin better than Regenerate Thumbnails plugin. Because it deletes the old ones, whilst regenerate thumbnails don't and that caused image data bloat.
WordPress SEO
This is a must plugin. It will help you with your SEO.
WordPress Related Post
This plugin enables you to add related posts to your posts.
Image Cleanup
Every time we upload an image through WordPress. The platform and sometimes the theme will generate a couple of images with different sizes. But at the end not all those images are used. This plugin able to detect which one and we can delete them to save some space.
WPDBSpringClean
When a plugin or a theme is deleted, the table and data stays on WordPress database. It's not making the database efficient. Use this plugin, to delete them.
WP Clean Up
It can help you to clean up the WordPress database by removing "revision" "draft" "auto draft" "moderated comments" "spam comments" "trash comments" "orphan postmeta" "orphan commentmeta" "orphan relationships" "dashboard transient feed". It allows you to optimize your WordPress database without phpMyAdmin.
Tako Movable Comments
If someday you have the need to move comments from one post to another you can use this plugin.

Alright, you've finished your lesson.
Do you have any question? You can comment below.
Is there anyone that may benefit from this guide? Please share it or retweet it. Thank you.
Further reading: